Collection:

Full course + Qualification entry for Certificate in Online Teaching (CertOT)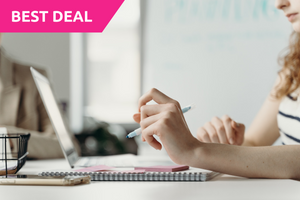 Maximise your professional development and make a positive impact on your online teaching practice with the combined Teach English Online course and Certificate in Online Teaching (CertOT) qualification. This combined course and qualification bundle allows you to benefit from all 10 Teach English Online units and consolidate your learning with a CertOT qualification.
CertOT assessment unit
Once you have completed the 10 Teach English Online units, you can immediately progress onto the CertOT assessment unit. Here you will find guidance about how to complete and submit your CertOT assessment. 
As a natural progression from the 10 Teach English Online unit portfolio tasks that are built into each Teach English Online course unit, the four CertOT assessments allow you to demonstrate your ability to: 
Identify the different features of a successful online lesson
Plan lessons for an online environment
Select and give a rationale for your online resources
Plan your ongoing professional development
The three-hour self-study assessment unit is designed to be completed at a time convenient to you.  You can access the assessment unit at any time and you don't need to do all three hours at once – you can re-enter the unit as often as you like for 12 months. The online assessment upload tool is at the end of the unit and can only be accessed via the online CertOT assessment unit.
We recommend that teachers have a CEFR B2 level of English to complete the unit and CertOT assessment.  Although it is still possible to take the qualification if your level is below B2, it may take you longer than 20 hours to complete and we would recommend checking your language before you upload your assessment.
Access to the CertOT assessment is restricted to people who have registered for the assessment as part of this combined Teach English Online bundle or as a separate CertOT assessment unit.  
Key features
Immediate progression from the Teach English Online course to the CertOT assessment unit
100% online delivery: Access the CertOT assessment unit and submit the qualification assessment within a timeframe that suits you, supporting your professional development in online teaching.
50 hours' total qualification time: 30 hours' guided learning (minimum) for the Teach English Online course plus 20 hours' self-study to complete the online assessment unit and the four CertOT assessment tasks.
Four assessment tasks: Practical tasks designed to consolidate your learning from the Teach English Online course, making this a qualification valued by employers around the world.
Download the CertOT qualification specifications.
---
Technical requirements 
To access the training resources, you will need:
A desktop or laptop computer 
A reliable internet connection 
Headphones or speakers (built-in or external)
For more detailed information on this, please check these system requirements.
You may also like
Full Course

Module 1: Preparing for the online classroom
Module 2: Developing language skills
Module 3: Resources for online teaching and learning


Qualification entry for Certificate in Online Teaching (CertOT)

  Certify your professional development with the Certificate in Online Teaching (CertOT) qualification, the formal qualification and assessmen...